Top 10 hotel booking apps in the United States
Top 10 hotel booking apps in the United States
Finding a good hotel in the United States is not the most difficult job. However, finding a room which fits your budget as well as preferences can be a little tough.
Best Hotel Booking Apps in The United States
The United States is one of the most popular travel and business destination in the whole world and is dotted with hotels, resorts and guest houses galore throughout its landscape. With so many choices available, it can be a little difficult to filter your choices, which is why you can install hotel booking apps to save time and money.
These best hotel booking apps allow you to scrutinize the room, the hotel, and its services before making the payment. Now you can make a hotel booking with pay later options on the go, all thanks to the apps mentioned below:
1. Priceline
2. Expedia
3. Hotel Tonight
4. Jetsetter
5. Travelocity
6. Hilton
7. HotelQuickly
8. LateRooms
9. Marriot
10. One:Night
1. Priceline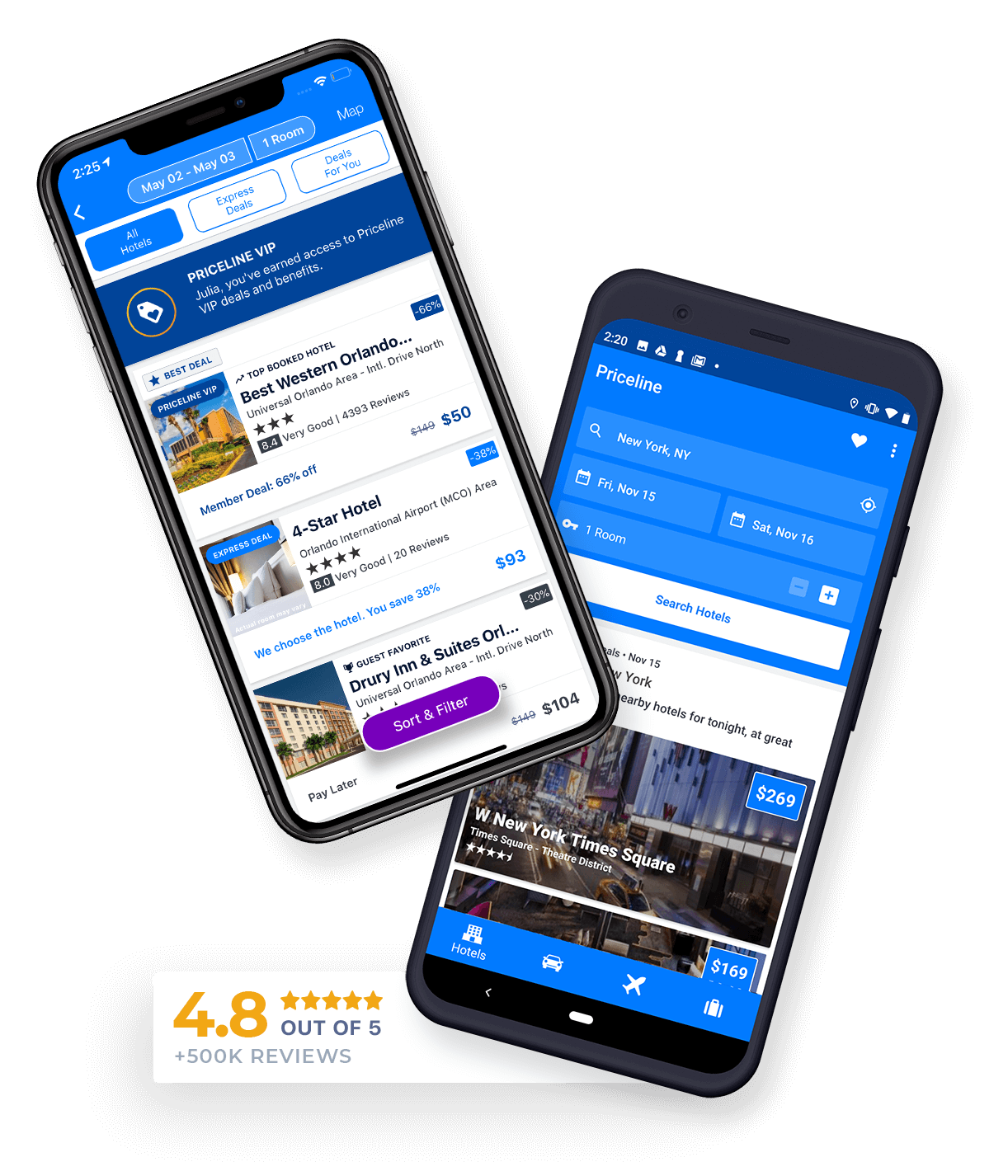 This is a hotel bidding site available for android and Apple users. You can choose the location as well as the star level and then enter your bid. This way you can find a decent room for yourself with ease. The amenities list is mentioned and a photo gallery of the room is also present.
2. Expedia
Another popular best hotel booking website in the United States is Expedia. You can easily sort out the price, deals, and rating of the hotels with ease. You can also find hotels which are closest to you.
3. Hotel Tonight
It can categorize hotels as basic, luxury, hip and charming. This app offers one of the very best discounts which will save you a whole lot of money. When you click on a hotel you can easily check out the facilities and amenities available, which helps you to select a comfortable room.
4. Jetsetter
Another amazing app for travel enthusiasts, this app allows people to book their favorite hotels with the click of a button. It offers, deals only in 7 major cities like Boston, New York, Chicago, San Francisco and Las Vegas.
5. Travelocity
If you want the best last minute deals and discounts when it comes to hotel bookings, then be sure to try Travelocity. You could easily filter using star ratings as well as user ratings.
6. Hilton
If you plan to stay at the Hilton hotels, then be sure to install this mobile app. There is an inventory of 3,000 hotels to help you select the room of your choice.
7. HotelQuickly
This app is very flexible and allows you to book a room for up to a year in advance. So if you are certain of your travel plans, then this app can help you get a good deal on hotel rooms. They offer 24 hours support if you wish to inquire something.
8. LateRooms
This app was introduced back in 1999 and now has access to more than 200,000 properties across the globe, including the United States. You can book a room for a day or months in advance.
9. Marriot
If you happen to be a big fan of the Marriot hotel, then this app will prove to be very helpful for you. You can get hold of deals as well as a discount, plus you can book rooms at the lowest rate.
10. One:Night
An app for the latecomers, this hotel lists same day offers to start from 3 pm. There are many comfortable hotel rooms available. The interface is very easy to use.
So, What are you waiting for, Just Install your favorite application and plan your next travel with gsehotels.com